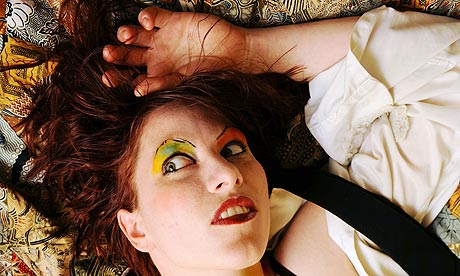 Or should I say Amanda fucking Palmer?
Maybe you know her from the Dresden Dolls. Maybe you're a fan of her husband, Neil Gaiman. Or maybe you liked Who Killed Amanda Palmer? Personally, I've been intrigued, at the very least, since I heard "Girl Anachronsim" on MTVU, before it was called that. Ah, sweet nostalgia.
Anyway, she's back with a new album, Amanda Palmer Goes Down Under, and it's pretty awesome and typical Amanda - catchy and fun but brilliant.
Is Amanda all fun and games, though? Of course not. She's had her share of controversy, from singing about a teenager's perspective on abortion in "Oasis" to Roadrunner Records taking issue with shots in her video for "Leeds United" because according to them, she looked fat. So her fans fired back with pictures of themselves and letters of support and called it The ReBellyon.
She can sing. She can play piano. She's a certified, card-carrying badass. Female piano players and singer-songwriters take heed - Amanda fucking Palmer may be your queen.
For your enoyment, one of my favorite from Amanda Palmer Goes Down Under - "Map of Tasmania" featuring The Young Punx. It's light. It's catchy. It's totally naughty.